Energize With Our Sauna + Cold Plunge Lake Experience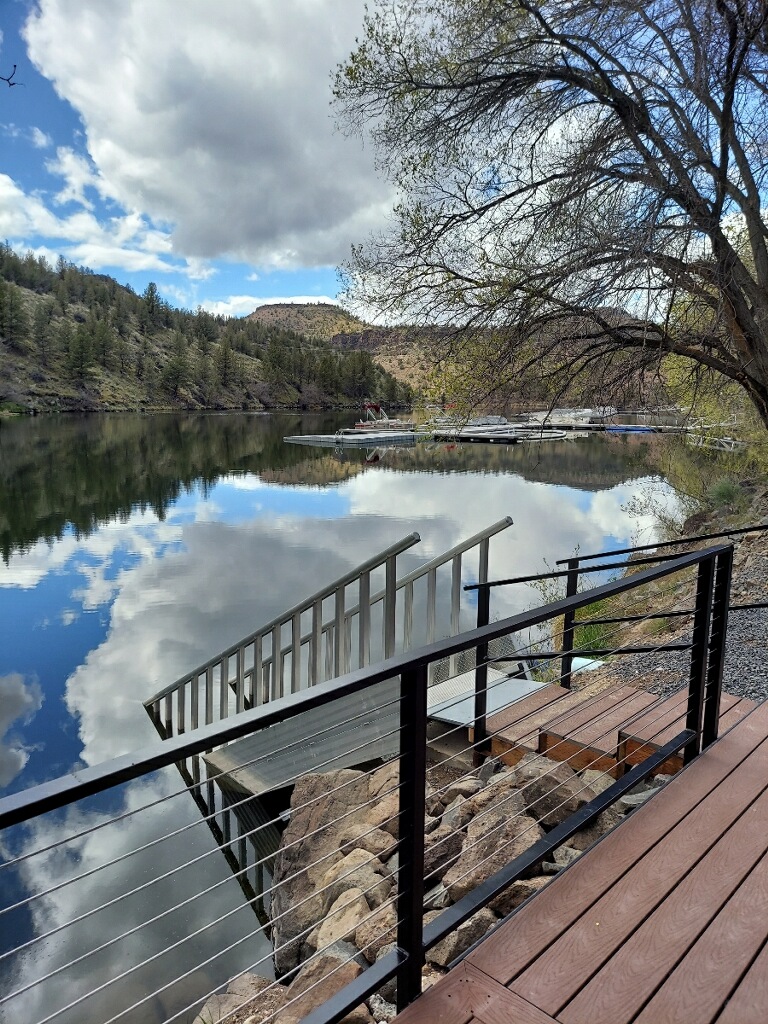 Try our wellness experience in a private setting in central Oregon. The Lake Simtustus Resort team will make sure you feel welcome and rejuvenated each time you visit our private, exclusive setting in nature.
---


Check out Pelton Park Marina Day-Use Area.
Just 1 mile North of Lake Simtustus Resort and Marina. Featuring water rentals, and the Dockside Cafe & Grill nestled on the shoreline of Lake Simtustus.

Dockside Cafe & Grill is a unique lakeside restaurant featuring a wide selection of breakfast specialties as well as lunch and dinner recipes. We thoughtfully source fresh and local ingredients and every meal is prepared with passion.

Lake Simtustus Resort and Marina is a Private Resort
Please call to schedule a tour at 541-475-1085

---


---

RECHARGE & REJUVENATE


Give in to the rest and relaxation you deserve while you enjoy breathtaking views of the lake or the night sky from the privacy of your own hot tub.

When you stay at Lake Simtustus Resort, you'll be able to enjoy the great outdoors without sacrificing luxury or comfort.

Whether you treasure beautiful sunsets, the balancing zen of nature, or an exhilarating day spent on the lake, we have everything you're looking for and more. Contact us today to book your stay.

---

TRUE OUTDOOR OASIS

Collins Lake Resort & Mt. Hood Skibowl expanded their group of companies.
Experience the newly acquired Lake Simtustus RV Park & Marina.

Conveniently located 58 miles East of Government Camp, less than 2 hours from Portland and only 1 hour from Bend, the Resort is situated on an 8-mile long lake reservoir and covers 55-acres of lake-front property in Central Oregon. The climate has proven to be a true "Hot Spot" offering over 300 days of sunshine and desert warmth. Lake Simtustus Resort averages 14°F warmer than Portland, offering you a whole new experience and endless adventure.

---


Explore Tiny Home living at its finest with luxury accommodations in our new, customized homes, Specifically designed to play off of the surrounding landscape, we welcome you to explore Tiny Home living at its finest. With an array of custom Tiny Homes to choose from you can effortlessly escape to nature in your private, luxury accommodations. The perfect getaway awaits you with fully equipped kitchens, panoramic window views, spacious decks, private outdoor living spaces with your own hot tub, barbecue, and fire pits.

In addition, we offer a variety of RV's, 75 full hook-up RV sites, an on-site boat launch, 53 boat moorage slips for rent. All guests have access to our showers, restrooms, and laundry facilities. Golf cart rentals are also available.

---



Fed by the Deschutes River, Lake Simtustus always provides fresh and clean water with plenty of fishing opportunities, by boat or even from the dock. Make sure you ask about our favorite secret swimming spots and plan ahead for a variety of water sports activities. Complete your Lake getaway with Waterskiing, Wakeboarding, Kayaking & Stand-up Paddle Boards (group or individual) on Lake Simtustus.

Pontoon boat rentals are another fun way to get your whole group out on the water to explore the Lake at your own pace.

What more could you want?

---



Get a glimpse of wild horses and the beauty of 47+ species of birds including Golden and Bald Eagles, Great Blue Heron, and Great Horned Owl. Lake Simtustus Resort is truly a bird lovers paradise. Enjoy the surrounding hiking trails to explore the different rock formations and geology, known as the Volcanic Grand Canyon of Central Oregon for good reason.

At night, the sky comes alive and all you have to do is look up! With the lack of light pollution in this part of Eastern Oregon, Lake Simtustus Resort provides one of the best spot lots to stargaze. View the tapestry of constellations, planets, and stars that are all but invisible in urban environments.

---

If you have questions regarding your reservation please contact us directly at
541-475-1085 or 888-LSR-LAKE

Please No Tent Camping

---